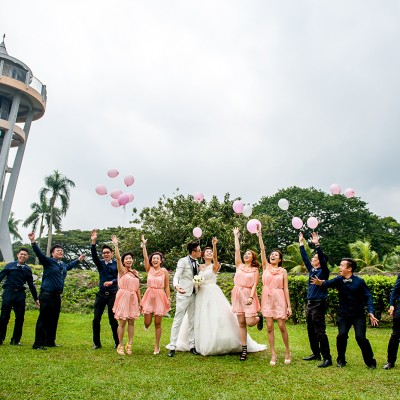 Feeling panicky because you have not prepared or even thought of what to bring for the big day tomorrow? Oh boy (and girl), there are some necessary essentials that you mustn't forget to bring to ensure the day goes well as planned. Not to worry though, we've provided you a useful checklist guide for both the bride and the groom!
Emergency Kit
Of course you wouldn't wish for anything upsetting to happen on the day of your wedding photo shoot, however it's better to plan ahead in case of any sudden mishaps or unexpected issues. As the saying goes, it's better to be safe than sorry! For the ladies, an emergency kit would be a necessity in the checklist. To ensure that you can fix your hair in the situation that your hair stylist is not around, bring a few bobby pins or a can of hairspray or hair wax to put the stray hairs back in place. Safety pins are also a good measure when it comes to finding a quick solution to the tiny hole or tear in your wedding dress. Although you might already have made sure to be extra cautious, remember to bring a handy stain remover just in case your dress gets stained by wine or other liquids. Not to be fallacious, but since women are commonly known as "very emotional creatures", redness reducing eye drops would be useful when you cry tears of joy, as you wouldn't want to ruin the wedding photographs! In addition, to counter a situation if it rains or if there's a heavy downpour, be sure to pack in a few umbrellas to shelter your bride and yourself.
Personal Camera
This is optional, but this tip will perhaps help you keep some precious moments of the day; bring your own camera for personal photos or even some tacky selfies. The photographer may only help you to capture the basic wedding photos of you and your loved ones, however if you want to take it a step further and go for some crazy fun images, bringing your own camera is one way to totally customize the pictures. You can even prepare a Polaroid or instant camera that develops photographs instantly for your friends and relatives to keep as a gift!
Fond Remembrances
The wedding day is an important day for both you and your bride, so you may want to bring a little something such as flowers, or even a personalized gift for her. A necklace or bracelet could express your gratitude or affection towards her, and I'm sure she'll be extremely touched by your actions!
Ease The Hunger
When you and your groom are busy scurrying around to make sure the preparations are all on point, don't forget about your empty tummies. A Granola bar on hand will be effective in satisfying the hunger craves for snacks and chips, and it's a healthy investment as well! It will keep you full for quite some time as they're packed with fiber. To those who prefer liquids to fill up their stomach, ensure that you bring a straw along with the drink to avoid ruining the lipstick. Candies are also important for those with low blood sugar.
The Outfit
Certainly, both of you wouldn't want to forget the basics: the wedding dress, accessories, suit, tie, shoes and the wedding rings as well! For the couples overwhelmed by anxiety or nervousness, remind yourselves to bring some medicine for headaches or stomachaches. A cup of chamomile tea before the wedding also aids in soothing of mind and body. Now that you've got these essentials all on hand, get ready to have the most unforgettable day of your lives!

An Observer of Life. Love the interactions between Light, Spatial, and Human. Inspired to be a Poet in Visual. Despite being sensitive to emotions, his fun-loving nature always helps to hype up the wedding or event. Henmond is also a member of Asia Wedding Professional Association and blue member of Professional Photographer Asia Community.

Latest posts by Henmond Chang (see all)