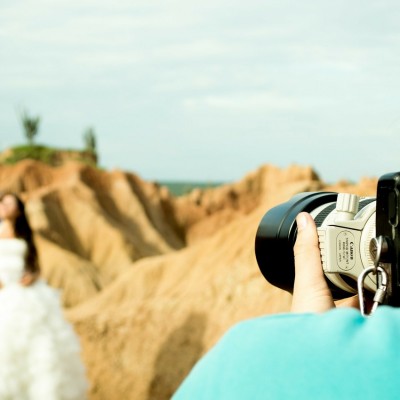 A wedding marks one of the most important days of one's life.
It's a day when we decide to marry someone for who they are and promise to love them till eternity ends.
It will be a day that is filled with so much of emotions and of course LOVE.
I believe no one would deny the fact that we all want the best photographers for our wedding. This is because we believe that they could present the best of memories to us. However, on the other hand, we fail to realise that some of the photographers market themselves in a way that increases our expectations of them and their services.
But this may not be fulfilled to a satisfactory level and it will be disheartening because weddings are usually a one-time thing. So here are a few tips I would be sharing on how NOT to choose wedding photographers:
"The wedding vendors or venue recommended him"
Honestly, some wedding vendors and venue suggest recommendations based on their positive relationship with the photographer. Recently I learnt that some venues also have a "preferred vendor list." This does not apply to all venues; some really do provide excellent recommendations.
What you could do is request for further information. For example, you could ask them if it will be possible for you to see some of the photographer's works before deciding. Basically, it is better for you to gather more information and research before deciding on one.
"The photographer's portfolio is AWESOME!"
This is indeed a good reason to book a wedding photographer. But do keep in mind that this should not be the ONLY reason why you are choosing her. Before deciding on booking the photographer, contact them and arrange for a meet- up. Why? Remember, the photographer will probably be spending more time with you on your wedding day than your own mother or even your other half.
Thus, it is important for your personalities to get along before inviting them to the most important day of your life. During the meet up you will definitely realise if you are comfortable with them.
"Oh my God, that is a 50% off promotion"
Usually, a price would speak for itself. If it is a 50% off it could also mean that the standard of service have been compromised. In most cases, this is expected and it is also understood by the customers. Just remember, the right photographer could make a budget gown look glamorous and a wrong photographer could do it otherwise.
Hence, think twice if you would want to compromise on something that happens only once in a lifetime!

An Observer of Life. Love the interactions between Light, Spatial, and Human. Inspired to be a Poet in Visual. Despite being sensitive to emotions, his fun-loving nature always helps to hype up the wedding or event. Henmond is also a member of Asia Wedding Professional Association and blue member of Professional Photographer Asia Community.

Latest posts by Henmond Chang (see all)