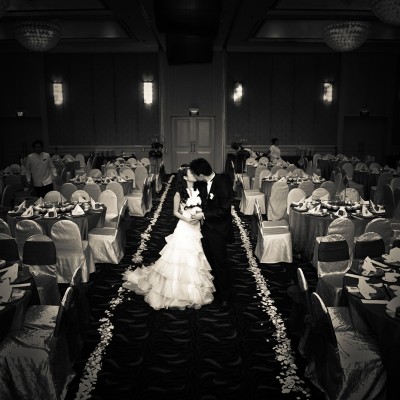 It's very common for wedding couples to have their wedding at 5 star Hotels these days. Some of the Indians have also been adopting this style to make their wedding an extra special one in comparison with the usual weddings at halls and temples. If you happen to have your wedding at the following hotels that I will be mentioning shortly, try to get your photographer to snap a few shots at the signature places of the hotels. This opportunity shouldn't be missed!
Pan Pacific Singapore
Pan Pacific Singapore has an eye catching Atrium which is located at the Heart of hotel on the first floor. Atrium is actually a restaurant in Pan Pacific Singapore which has a really elegant design. It has an eclectic collection of seating pods floating over a reflection of pool. The lights on the shelter of the seating pods change colours at times and that makes it more eye appealing. Adding on, the Pan Pacific Singapore also has indoor glass elevators which are unique because there are not many such elevators in Singapore hotels.
Ritz Carlton, Millenia Singapore
The next one would be the Cornucopia in the Ritz Carlton. It is a three-tonne sculpture created by Frank Stella which hangs from the ceiling of the lobby, offering guests a glimpse of the hotel's 4,200-piece contemporary art collection.
The Cornucopia together with the stairway leading to it would make a beautiful shot. The Ritz Carlton also has a glass wall which was designed by Pritzker prize-winning architect Kevin Roche. It features geometric lines, contemporary style and subtle Oriental touches. These architectures are amazing and would turn out well in photographs too.
PARKROYAL on Pickering, Singapore
The PARKROYAL on Pickering has been designed by internationally acclaimed architectural firm WOHA. It features a contemporary hotel-in-a-garden concept that focuses on integrating environmental principles and elements of nature throughout the property. Thus, the architecture of this place would be like nature all around.
Every part of the hotel actually has a unique feature that attracts you in a glimpse.
The beautiful features would include the lobby itself, the lush sky gardens and cascading vertical greenery. The cage-like feature in a few places around the hotel is a unique architecture where you should snap a few shots.These are a few places not to be missed. Many couples have been exploring hotels like Marina Bay Sands and Fullerton for their wedding photo shoots.
These are some hotels wedding couples could consider for a few shots as well, especially if you are having your wedding dinner at these hotels.

An Observer of Life. Love the interactions between Light, Spatial, and Human. Inspired to be a Poet in Visual. Despite being sensitive to emotions, his fun-loving nature always helps to hype up the wedding or event. Henmond is also a member of Asia Wedding Professional Association and blue member of Professional Photographer Asia Community.

Latest posts by Henmond Chang (see all)