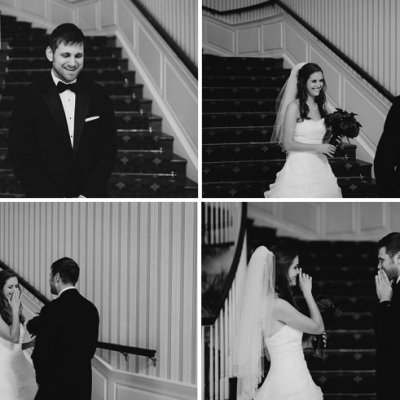 The 'First Look" trend has been rapidly growing in popularity. Although there are people who still follow the traditional way of not seeing each other before the wedding itself, the younger generation seems to be more into this trend. It is well-liked by the younger crowd and there are a few reasons why first look should be practiced.
CALM THE NERVES OF THE COUPLE
The first reason to practice a first look is to calm the nerves of the anxious couple. On their wedding day, the couple would be nervous and anxious. Seeing each other before the wedding would make them feel more comfortable and they would enjoy the moment. Would any worries stay on your mind when you see the love of your life in their wedding gown/wedding suit with that charming smile of theirs? Absolutely NOT!
A CHANCE TO BE EMOTIONAL
These kind of private moments don't happen every day. These moments could get so teary to the extent that even the grooms continue to cry more than the brides. And that's exactly what makes first looks special. It's such a moment when you realise you mean so much to that ONE and vice versa!
PURE HAPPINESS
There is one similarity in ALL first looks, the happiness. It's such a genuine one. The glance, the smile, the laughter, it's just pure. This is a clear display of love and affection towards the other. Couples usually would love their photographers to capture these shots as they are precious. All couples do cherish such moments.
IT'S MAGICAL
Lastly, you would never get a first look, a second time. Thus, it's wise to capture it. This whole concept of LOVE is magical and so is the concept of first look. A first look is relatable to a love at first sight. One will never be able express the magical feeling even through the most perfect words because it will still seem inadequate. That is simply because it's just BEYOND the most perfect words. It's just magical and that's the word for it.

An Observer of Life. Love the interactions between Light, Spatial, and Human. Inspired to be a Poet in Visual. Despite being sensitive to emotions, his fun-loving nature always helps to hype up the wedding or event. Henmond is also a member of Asia Wedding Professional Association and blue member of Professional Photographer Asia Community.

Latest posts by Henmond Chang (see all)