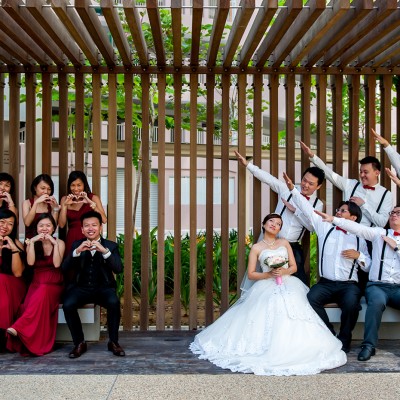 Some people want their wedding photographs to be simple, while some may prefer to add a little craziness in them. Want to have a wedding photo shoot that's "out of the box" but don't know how?
Here are a few easy ways to creatively capture that special moment:
EXPLORE WITH LOCATIONS
Locations play a big part in how the wedding photographs turn out to be, and there's simply an endless variety of options to choose from. Having them taken at the beach or a park could create a romantic feel, whereas the bar could also be a great choice for wacky photographs to be taken.
Couples who are more towards the wild side can even bring their photo shoot underwater. So, do not be afraid to try and experiment with different places, and you may just achieve the best images ever!
GROUP SHOTS
Wedding photographs are meant for the pair of lovebirds, why have group shots? You may think. However, taking group shots can actually give the wedding photo shoot a thrilling experience. For instance, a photograph can be taken where the families and relatives surround the couple in the middle.
Dramatic and crazy shots such as the families pulling the couple away from each other can also be taken! Not only do group shots incorporate a feeling of wild and adventure, it also depicts the close bonds between everyone. Give it a try and you'll find yourself smiling to yourself when you look back at those pictures!
DON'T BE AFRAID TO BE DIFFERENT
Rather than sticking to the usual smile shots, why not go all out and be different? This tip will help you to take photographs to the best of your creativity. For the lovey-dovey duos, expressing your love towards the camera is a great way to capture those precious moments.
Be it a hug or a close-up shot of a kiss, it can bring about a really special element of bliss in your photographs. For the perkier couples though, enjoy yourselves during the wedding photo shoot with funny-looking poses, such as duck faces or the exchange of outfits between the bride and groom.
These photographs will definitely serve as a good source of laughter!
ADVICE FROM EXPERIENCED PHOTOGRAPHERS
Sometimes it is always better to seek opinions from others before making decisions of your own; so seek advice from your photographers! It's okay to go wild, but listen to what your photographers have to say as they will know what is best for you and your partner.
MAKING THE BEST OUT OF IT
Well this tip has gotten everything covered; from the groom losing his ring to a sudden downpour on the day of the wedding photo shoot. Many of you may find yourselves panicking when thrown in such situations, but this tip calls for a little leeway.
Here's the trick—capture the moments even if your plans didn't go as planned or they were not what you ideally wished for because sometimes the happiest moments are the least expected ones.
LOOKING FOR WEDDING PHOTOGRAPHER?
If you are looking for a good wedding photographer in Singapore, do feel free to check out our portfolio and drop us an enquiry to discuss more!

An Observer of Life. Love the interactions between Light, Spatial, and Human. Inspired to be a Poet in Visual. Despite being sensitive to emotions, his fun-loving nature always helps to hype up the wedding or event. Henmond is also a member of Asia Wedding Professional Association and blue member of Professional Photographer Asia Community.

Latest posts by Henmond Chang (see all)